News
Latest updates from the campaign:
Wednesday, January 11, 2023 10:40 AM
ST. PAUL – The Minnesota House on Monday overwhelmingly passed legislation allowing state taxpayers to take advantage of numerous tax provisions already approved at the federal level.
---
Monday, January 9, 2023 11:02 AM
ST. PAUL – Walter Hudson officially is Rep. Walter Hudson, a member of the Minnesota House of Representatives after performing the oath of office with the 93rd Legislature that was installed Tuesday at the Capitol.
---
Friday, January 6, 2023 1:48 PM
State Representative Walter Hudson Address "Stop the Mandate" Rally at Capitol Rotunda
---
Sunday, June 26, 2022 6:12 PM
PODCAST: St. Michael Standoff, plus Mental Health, Public Safety, and Race Relations
June 26, 2022 - Walter Hudson joins host Daniel Breitenbucher for a wide-ranging discussion on the new "Logical and Wright" podcast, which can be found at logicalandwright.com. They react to the recent police standoff in St. Michael and meander through topics from mental health to race relations, all with a local angle.
---
Saturday, June 18, 2022 5:31 PM
Help Us with Lawn Signs
You can help the campaign in one of several ways. We need to procure and put up lawn signs throughout the community. Here's what we're looking to buy, and what it should cost.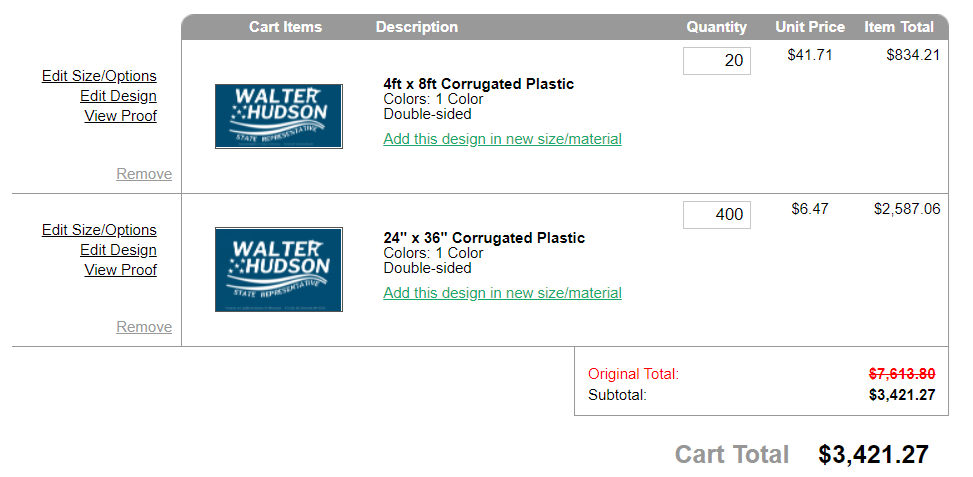 You can help in one of three ways:
1) Find/offer a better per unit price. Send the info to walter@hudsonformn.com.
2) Contribute to the campaign. Take advantage of Minnesota's Political Contribution Refund program and get your contribution refunded up to $50 per individual and $100 per couple. We'll send you a receipt and an application for you to mail into the state, and you'll get your refund in a matter of days. Every $50 contributed gives us 7 signs to work with.
3) Request a lawn sign for your property, or to volunteer to help put them up this fall.
However you can help, thank you!
---
Tuesday, May 3, 2022 11:08 PM
Walter Hudson Committed to Abolish Abortion as Roe Overturned
Deepening the stakes of the 2022 midterm election, news broke late Monday that the United States Supreme Court stands poised to overturn Roe v Wade, the lynchpin legal opinion which has barred states from prohibiting the killing of unborn children since 1973.
Politico reports:
The Supreme Court has voted to strike down the landmark Roe v. Wade decision, according to an initial draft majority opinion written by Justice Samuel Alito circulated inside the court and obtained by POLITICO.

The draft opinion is a full-throated, unflinching repudiation of the 1973 decision which guaranteed federal constitutional protections of abortion rights and a subsequent 1992 decision — Planned Parenthood v. Casey — that largely maintained the right.
Minnesota state representative candidate Walter Hudson responded to the news on Tuesday, saying:
"... the end of Roe is not the end of our fight for life. Babies will continue to be massacred in Minnesota unless we have elected officials willing to act in their defense. As your next state representative for northeastern Wright County, I will work to prohibit the murder of children."
Hudson has been endorsed by the Republican Party of Minnesota for House District 30A, representing Rockford Township, Hanover, St. Michael, Albertville, and much of Otsego.
---
Wednesday, April 27, 2022 5:18 PM
It was revealed late Wednesday that the Biden administration's Department of Homeland Security is creating a "'Disinformation Governance Board' to combat misinformation ahead of the 2022 midterms."
Minnesota state representative candidate Walter Hudson reacted on social media, calling for the immediate impeachment of President Joe Biden.
---
Saturday, March 12, 2022 10:18 PM
Walter Hudson Unpacks the Plantation Politics of Minnesota Democrats on The BS Show
Legendary Twin Cities broadcaster Bob Sansevere hosted state representative candidate Walter Hudson for a candid discussion about Minnesota Democrats and their plantation politics. Attorney Jeff O'Brien rounded out the discussion as they unpacked why Minnesota deserves better and how Hudson hopes to provide it.
Listen here.
---
Sunday, March 6, 2022 2:37 PM
Jack Tomczak Interviews Walter Hudson for State Representative
State representative candidate Walter Hudson, seeking endorsement in House District 30A servicing Rockford Township, Hanover, St. Michael, Albertville, and much of Otsego, sat down with AM 1280 The Patriot host Jack Tomczak for a candid chat about what it will take to change the political culture in Minnesota. They discuss the Democrats hypocrisy on racial justice, and the untapped opportunity to provide metro voters with an aspirational vision for their future.
---
Tuesday, March 1, 2022 2:30 PM
Mitch Berg Interviews Walter Hudson for State Representative
Mitch Berg hosts state representative candidate Walter Hudson on the Northern Alliance Radio Network. They talk about the tyranny Minnesotans have endured under Governor Tim Walz and his Democrat allies. Other issues discussed include law and order and critical race theory. Walter shares his vision for leveraging a strong Republican district to serve as an ambassador for conservatism to nearby metro communities.

Listen above for the highlights. Full interview available here.
---
Thursday, February 24, 2022 1:33 PM
Minnesota state representative candidate Walter Hudson visited with dozens of legislators this week, arguing for bold reforms to the legislative process to return power to 'We the People.' He did so as a member of the Republican Party of Wright County Legislative Action Committee.
---
Saturday, February 19, 2022 8:23 PM
Endorsement Postponed to March 19th SD30 Convention
Today, both candidates seeking the Republican Party endorsement for Minnesota state representative in House District 30A agreed to postpone the delegates' consideration until the March 19th Senate District 30 convention.
Walter Hudson thanked delegates and offered his thoughts in the video below: